Kakadu lies in The Top End, 150 miles east of Darwin. While Canberra might be the seat of Australia's power, Kakadu is a great place to discover the nation's soul. Kakadu National Park is a cultural, biological, and geographical wonderland. It is not only a national park but also a national treasure. For more than 50,000 years, the Mungguy and Bininj people have been caring for this country and today are happy to share parts of their dreaming, knowledge, and country with you.
Kakadu is a 3-hour drive from Darwin and is open all year round but most tourists come during the dry season when most of the roads in the park are open. Don't think you will have it all rough here just because it is the Outback. There are comfortable campsites and hotels and a visitor center where you can stock up on fuel, supplies, and information.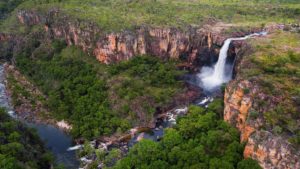 To fully explore Kakadu National Park, you will need to set aside a few days, and once there, the best way to experience the park is on foot and by off-road vehicle. There are about 25 marked trails in the park from multi-day hikes to short walks.
Although walking to Jim Jim Falls is around half a mile, it is a walk you will always remember. Climb up through waters that mirror the sky and a world of hidden canyons, before arriving at an ancient plunge pool surrounded by 500-foot cliffs and perfect beaches.
Twin Falls is 6 miles away. Here at the forested gorge end is the kind of place many people dream about not only a few will ever see. Gunlom Falls is another great place to cool off. Hike all the way to the top of the falls for scenic views and choose from a variety of crystal-clear pools shaded by eucalyptus.
This park is dotted with many art sites with some galleries featuring paintings dating back to as far back as more than 20,000 years. Created with local ochres and often even blood, these artworks give an insight into the original inhabitants throughout the centuries.
The galleries of Ubirr is some hours' drive to the north. You will get to see paintings of the wildlife of the wetlands, Rainbow Serpent in impossible places, paintings believed to be created by mini spirits.
Another fascinating way to explore Kakadu is by boat. Cruise through the Yellow Water Billabong, the richest wetlands in the park. Drift past Magpie Geese and Jabiru as well as lotus-covered floodplains, and say hello to the most famous residents of the park, the fresh- and saltwater crocodiles.
Take to the air if you really want to appreciate the incredible majesty and scale of Kakadu. A chartered flight will have you soaring over The Magela Wetlands, Dinosaur Valley, and the East Alligator River.